To say that 2021 was a difficult year is to point out the obvious! A quick look at the EFC Fighter Roster will tell you all you need to know with so many of the faces and names no longer part of the organisation and yet we still see their portraits proudly displayed as current EFC athletes. This fact was made more glaring by the pillaging of the amateur ranks in an attempt to add new blood to an already depleted EFC roster.
That said, the EFC essentially only lost out on two events in the 2021 calendar year, commencing activities in May, more than 400 days after the COVID 19 pandemic put a halt to pretty much most sporting activities in South Africa. After seven more numbered events and the introduction of EFC Fight Night, here is our summary of Professional MMA in South Africa during 2021.
Newcomer of the Year:
It was always going to be a tough ask to pick a Newcomer of the Year, what with the huge number of amateurs making their professional debuts during 2021. Some of the notable mentions were Tapiwa Katikati (2-0), Gift Walker (2-0) and Nicholas Hwende (2-0) – all of which showed impressive pedigree as they successfully negotiated themselves to impressive starts to their professional careers. In third place, with two impressive 1st round finishes along with a KO of the Year nomination – Julio Plaatjies.
Unfortunately, we were unable to split out a definitive winner for the honour of being called Newcomer of the Year so to share the accolade, the winners are: Ziko Magengele (3-0) and Shannon van Tonder (3-0)

Comeback of the Year:
Following an hiatus of almost 6.5 years away from competitive action and then collecting 2 wins in just 3 months, Ashley Calvert fully deserves the accolade of Comeback of the Year.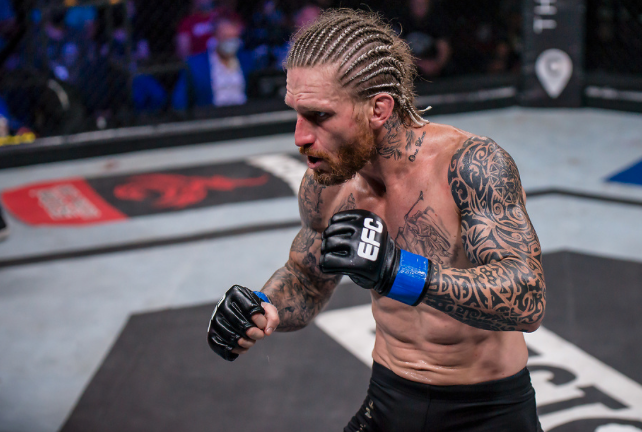 Submission of the Year:
It is almost bizarre to think that with almost 90 events under the belt that EFC fans, and quite clearly the EFC commentators, had never witnessed a submission by Von Flue Choke. As if 2021 could not get more strange, we were treated to not just one but two finishes by the elusive Von Flue choke. Most recently it was the redemption win for Peace Nguphane over Pietie Coxen at EFC 91, but our vote for Submission of the Year goes to Vince Bembe for the first ever Von Flue Choke in EFC history at EFC 87.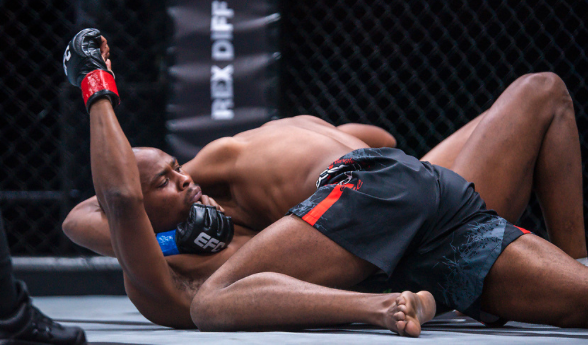 KO of the Year:
It is always a tough ask to adjudicate a great Knockout – what is great in one person's eyes is not necessarily good in another's. Some notable mentions for KO of the Year are as follows;
Bandu over Pretorius at EFC 85 (4:39 R1)
Hwende over Mkize at EFC 88 (0:30 R2)
Botha over Coxen at EFC 89 (4:46 R1)
Runner-up for KO of the Year goes to Julio Plaatjies over Wade Kerspuy at EFC Fight Night (0:23 R1).
The winner of KO of the Year goes to the history making 5 second effort by Cole Henning over Tumisang Madiba at EFC 91.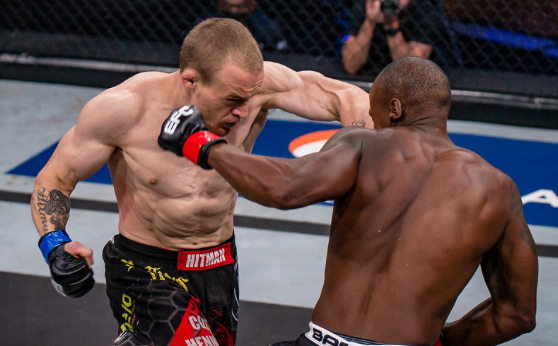 FOTY:
To be honest, this was quite possibly one of the easiest decisions to make. With not many bouts even making it past the first round in 2021, those that did often lacked the sheer "dog" required to even be considered a great fight. There were, luckily for us, 2 solid contenders for Fight of the Year;
Runner-up by a long way was the Bantamweight Title fight between Faeez Jacobs and Sindile Manengela at EFC 90.
The Winner of Fight of the Year goes to the Bantamweight Title fight between Faeez Jacobs and Sylvester Chipfumbu at EFC 85.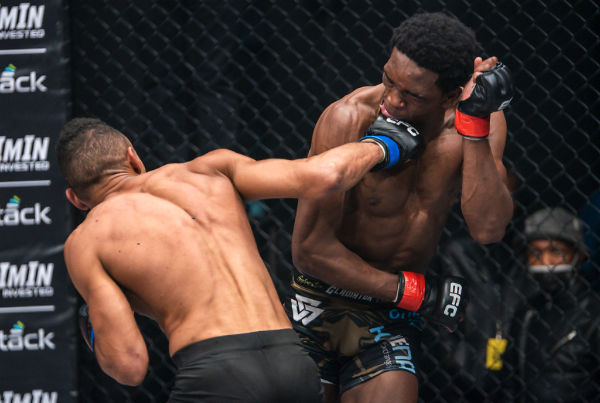 Fighter of the Year:
With 2021 causing so many disruptions to so many things, it would take a special individual to rise above it all and showcase their true mettle and professional spirit. The issue of professionalism and in particular that of making weight showed its ugly side this year with almost zero "fucks" being given by both the EFC organisation as well as the Sport's Administrators. Despite all the these challenges which included some serious air miles, runner-up for Fighter of the Year goes to Renaldo Ekson for winning the featherweight strap at EFC 86 and then "defending" it at EFC 91.
The winner of the accolade of Fighter of the Year, for 3 fights in 2021 (2-1), professionally navigating multiple fight-camps, two potentially disastrous weigh-in sagas and then making a statement to win his first professional MMA strap – Luthando Biko.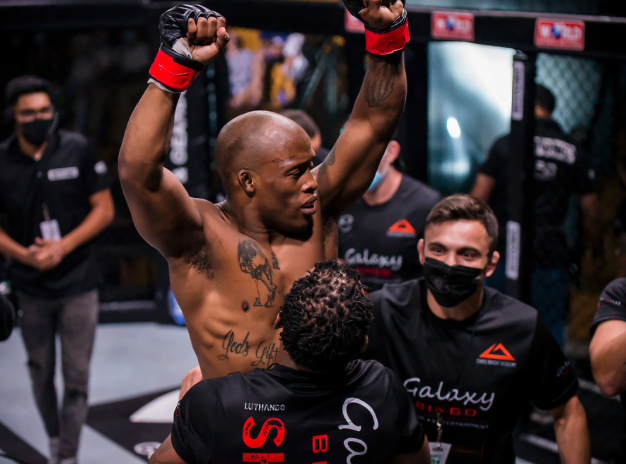 Coach of the Year:
It is not often that a Coach has such an impact on the lives of their athletes, but without doubt, the South African MMA scene has been gifted with a number of such individuals with names like JP Kruger, Cedric Doyle, Conrad Seabi and Shane Carr immediately coming to mind. Add to the mix the fact that support also requires the often many hours away from family, friends and other young athletes, the Coach of the Year is an accolade that is often easily overlooked. For his commitment to not only assisting his athletes at 5 events out of a possible 8 events in 2021 and for bringing PE both its first and second EFC Title straps – Chris Bright (PESFA) is the 2021 Coach of the Year!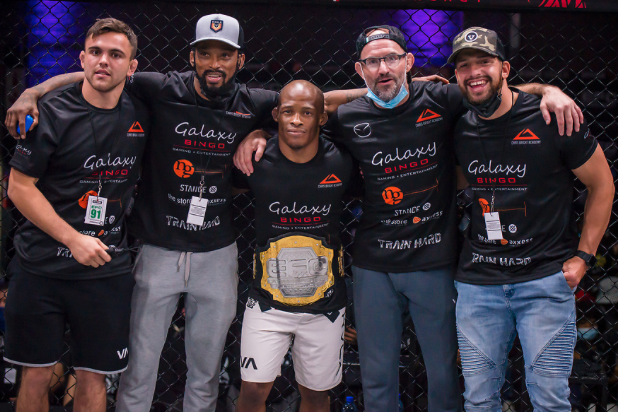 MMA Moments of 2021:
Finally, there were many poignant moments in professional MMA in South Africa during 2021.
The three moments that stood out the most were;
Chyrene Strauss becoming the first Professional Woman MMA Referee on the African continent. A feat that has been 10ys in the making and resulted in her officiating over the first ever Von Flue Choke in EFC history…….a great moment by any measure!
Then, as if to obliterate all the great accomplishment of Chyrene Strauss, EFC 88 would bear witness to one of the most egregious spectacles of officiating ever seen in professional MMA officiating anywhere on the planet, when MMASA Provincial Chairperson, Natasha Brits allowed a debuting athlete to be choked out multiple times before ultimately calling a stop to the fight. She was subsequently removed as an EFC referee and local fans were advised of various interventions that would be required from her before ever stepping back in the cage.
Finally, the raw emotion displayed by Thabani Mndebela on winning the EFC Heavyweight Title at EFC 88 must go down as one of the most emotional moments in EFC history. The story behind the camp, Mndebela's loss and the fight itself can never be overshadowed despite the EFC organisation never officially crowning him "The Baddest Man in Africa" and by all accounts, still not delivering him the strap he rightfully deserves!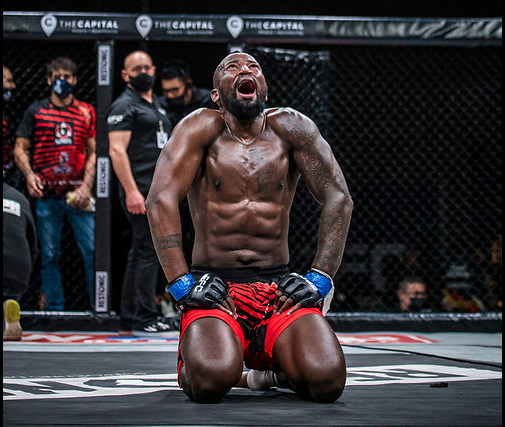 All Images courtesy EFC.
---
Reader's opinions
---