Is the EFC organisation in more trouble than we originally thought?
This critical question sits atop a number of other serious questions that should have fans and fighters alike, wanting answers.
#QUESTION 1: Medical Concerns!?
The return of so many older fighters that have not competed for such a long time should be of the utmost concern to all stakeholders. Especially when it is a known fact that the required medical protocols are nowhere near what they should be and as such, the risks associated with older fighters trying to relive "former glories" should frighten all those involved!
Not that the likes of Vandam Mbuyi and JP Kruger underperformed, quite the contrary, they suffered little damage and walked out without really breaking too much of a sweat in their first round wins over Robert Cunningham and Roy Lokolo respectively.
The Wade Henderson step-up, to face Conrad Seabi at catchweight, is admirable at best but resulted in what most people believed would happen when this bout was initially announced – more talk than action. Fans were treated to a better performance at the weigh-ins than what we saw in the unanimous decision victory for Seabi.
#QUESTION 2: Have the EFC lost faith in their existing roster?
Starting with the women's strawweight bout, which not only presented us with some badly needed new faces in women's MMA, it also delivered spectacularly against all pre-event expectations! The first round of which showed exactly what the lighter weight divisions can bring to any card – men or women! The question is; why were these relative "nobodies" with no professional records, and nothing to gauge a possible performance by, afforded Main Card Status when athletes who historically bring superb performances – like Salahuddin Plaatjies, Vandam Mbuyi and Nerick Simoes – were relegated to the Prelim Card?
Added to that, why is a fighter – admittedly a returning SA MMA Legend – afforded co-main event status at the expense of a bout between Cameron Saaiman and Roevan de Beer – arguably the future of the sport here in SA? Perhaps the real question here is rather – does the EFC have a competitive fighter roster? A quick glance at their website should tell you all you need to know!
With Luke Michael having only fought twice since March 2018 (1-1) and Pupanga Tresor having only fought once since Dec 2017 (1-0), what made this worthy of a title fight? Other than the obvious, that the EFC middleweight division is seriously shallow with a third of the division having had 3-fights or less and a large portion no longer active EFC roster fighters, the EFC 92 headliner was an attempt at creating something out of relative nothing. These are most certainly not the 2 long-standing leaders of the division as the commentators would have had you believe and the only real story-line here was that of former team-mates going toe-to-toe – can you see the local Covington/Masvidal storyline yet? So by the very logic used to determine this Title Fight, can we assume that JP Kruger is now in contention for a shot at the disputed champ?
#QUESTION 3: How will EFC compete against Omega?
With the announcement that Omega MMA Championships (OMMAC) will be hosting their first Pro/Am event on March 26th, fans and fighters alike should be excited at the prospect of something new. On the surface of it, it seems a tough ask for OMMAC as they do not have the TV time, but maybe they have something the EFC does not have – money to properly pay the athletes! In OMMAC's favour is the fact that they have an amateur promotion (AMMA) that will clearly act as a feeder for their professional ranks, something the EFC also does not actively have as this writer has NEVER seen the EFC at any local amateur events in like, forever!
What is going on with officiating in SA MMA?
Any fan – whether mouth-breather or educated fight fan – would know that it is only the referee that can call a halt to proceedings once a bout has begun. And yet, Wade Henderson had to tell referee Bobby Karagiannidis that he had been poked in the eye resulting in a momentary WTF moment before an almost non-existent time-out was called!
Also, the vicious finish to the bantamweight bout between Saaiman and De Beer saw at least 18 shots land before referee Brad Bloch felt the need to step in and call it. We understand that this is prize-fighting, however, there are moments in most fights when it is clear to all that the downed fighter is not in a position to effectively defend themselves and this, in our opinion, occurred long before the 18th blow landed!
Last but certainly not least, the debacle that was the officiating in the main-event has resulted in quite possibly the most controversial Title decision in EFC history! To initially wave-off a fighter (effectively declaring them Champion) and then change your mind, deduct a point, restart the fight and then wave-off the other fighter – declaring a new Champion – is an altogether new level that MMASA have created for themselves.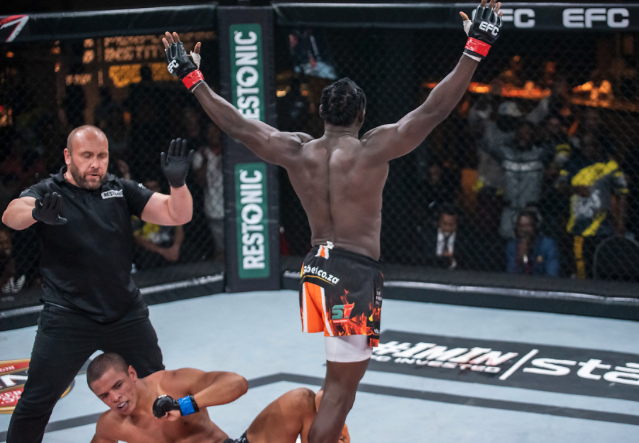 This writer expects not much to happen as a result of what appears to be a gradual deterioration in local officiating. With officials not being held accountable and new officials being trained and evaluated by the very people making these errors – lets recall the Natasha Brits fiasco – the future does not look comforting in this regard.
Will the events of EFC 92 act as a turning point for MMA in South Africa?
The actions of the fans following the main-event fiasco at EFC 92 were disgraceful and concerning while at the same time, totally understandable. It is not the first time we have seen the raw passion of the Congolese fans towards their countrymen – remember Dalcha vs Wessels, the Gunther Kalunda issue and now this. Not to mention the countless incidents in the Carnival City stands with Congolese fans in pre-COVID times. Have MMASA and the EFC not been taking notes? If so, where are all those notes? Where was security at the time that the fan jumped the cage and why did it take so long for security to address this initial issue?
The answer to that, this writer suspects, lies in the error by the referee, who, in waving off the fight signalled to Tresor that he was the new Champ (sending the Congolese fans into delirium), secondly to Michaels that he had again been unsuccessful in a title fight and finally to the EFC/commentary team that the bout had ended which resulted in the cage door being opened and the cameraman entering to capture the "winning emotion" live on TV. At that moment, the Congolese fans believed that they had a new Champion, their ecstasy was short-lived as the point deduction and subsequent restarting of the fight saw Tresor gas himself and Michaels take advantage of the situation to become the new EFC Middleweight Champ. Having seen the Congolese passion close-up, I too would be pissed! That said, their actions and the threats against others were a disgrace not only to themselves as individuals, to the Congolese community here is South Africa and more importantly to the athlete they were supporting. I hope and trust that both MMASA and the EFC will take reasonable and sustainable action to ensure that these scenes are never again repeated!
Finally, what, if anything, will be the ripple effect of the officiating debacle as well as the fan behaviour on the sport of MMA in South Africa? As it is, the sport is suffering a serious credibility crisis with no blue-chip sponsors of the continent's only professional promotion, long-standing issues regarding fighter pay, an administration that cannot effectively support its National Team and ongoing criticism of administrative misogyny, tokenism and power-mongering. Only time will tell!
On a lighter note, did anyone else hear Simon Stevens ask JP Kruger to speak English because he is a "sout-piel"? Live? On TV? GTFOOH.
THE OFFICIAL EFC 92 RESULTS:
MIDDLEWEIGHT CHAMPIONSHIP MAIN EVENT: Luke Michael def. Pupanga Tresor by TKO (Strikes) – Round 1
MIDDLEWEIGHT CO-MAIN EVENT: JP Kruger def. Roy Lokolo via Submission (Rear Naked Choke) – Round 1
BANTAMWEIGHT BOUT: Cameron Saaiman def. Roevan de Beer via TKO (Strikes) – Round 1
WOMEN'S STRAWWEIGHT BOUT: Jessica Mouneimne def. Crystal van Wyk via Submission (Rear Naked Choke) – Round 2
CATCHWEIGHT BOUT: Conrad Seabi def. Wade Henderson by Unanimous Decision (30-27, 30-27, 30-27)
FEATHERWEIGHT BOUT: Nerik Simoes def. Keir Harvie by Unanimous Decision
HEAVYWEIGHT BOUT: Vandam Mbuyi def. Robert Cunningham by TKO – Round 1
FLYWEIGHT BOUT: Fafa Dwama def. Salahuddin Plaatjies by Split Decision (29-28, 29-28, 28-29)
MIDDLEWEIGHT BOUT: Diego Bandu def. Khulekani Hlongwa via Unanimous Decision (30-27, 30-27, 30-27)
LIGHTWEIGHT BOUT: Guelor Sondi def. Hanro Enslin via TKO (Strikes) – Round 2
FEATHERWEIGHT BOUT: Guide Moyo def. Qaasim Coetzee via TKO (Ground 'n' Pound) – Round 2
HEAVYWEIGHT BOUT: Ivan Strydom def. Willem Smith via Medical Stoppage (Injury) – Round 1
PERFORMANCE BONUSES: Guelor Sondi and Cameron Saaiman
FOTN: Nerik Simoes vs Keir Harvey
---
Reader's opinions
---