Let us start where the rest of the global MMA community left things off following on EFC88 – with the officiating debacle where referee Natasha Brits allowed a debuting athlete to get choked out on 3 occasions! The MMASA "Corrective Actions" as outlined in their letter dated 17 August 2021, clearly stated that Mrs Brits "will have to pass a locally presented officials' course, and only then return to officiating. At 1st this will be limited to judging for at least 5 amateur events, and then after a review of performance, will then be able return to amateur refereeing. Once she then meets the above-mentioned criteria will she be considered for the professional division."
Notwithstanding the very specific nature and directive of the MMASA communication, EFC89 saw Mrs Natasha Brits officiating at the event. No Officials course! No 5 amateur event judging! No performance review! No amateur event refereeing! Yet, she is back cage-side in the very next professional event! MMASA just keep on making this shit up and then NEVER stick to what they commit to do!
Add to that, it is now blatantly clear that the great work done and accomplished by Chyrene Strauss (as the first professional female MMA referee in Africa at EFC87) has been undone and …..yep, you guessed it, the misogynists that run MMA in South Africa did not give her a refereeing assignment at EFC89 – she was only allowed to judge! One step forward and two steps backwards with these administrative clowns!
On a more positive note, it was great to hear the more baritone "Sounds of Cyrus" again…..my how I have missed his seasoned commentary.
Here is our wrap-up of EFC89:
The Flyweight Championship Main Event was won by Nkazimulo Zulu, who defeated Luthando Biko via submission in Round 2.
This bout was not without its controversy as Zulu missed weight by 2.7lbs – not for the first time I might add! To add to this, it seems that both the EFC and the sanctioning body, MMASA, allowed Zulu to weigh-in earlier than planned (without discussion with the Biko camp) so that he can begin to rehydrate.
The result means that the EFC Flyweight strap remains vacant and considering the controversy, I would not be surprised to see an immediate rematch.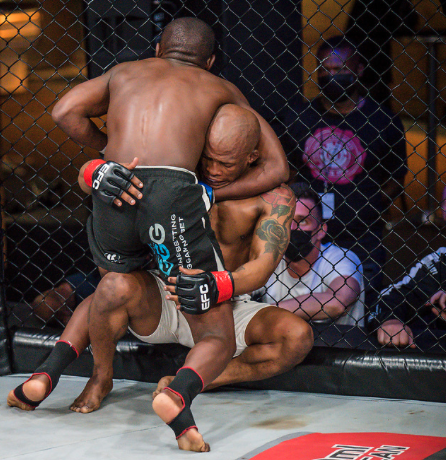 The Lightweight bout between Igeu Kabesa (DRC) and (DRC) Anicet Kanyeba was cancelled as Kanyeba was not medically cleared to fight.
The Lightweight bout between August Kayambala and Cole Henning was an exciting battle resulting in a split decision win for Kayambala, who stepped up a weight division to take this fight. With no real consistent damage being caused by either fighter and the fact that Kayambala was constantly on the back-foot for virtually the entire fight, Henning should feel disappointed with the judge's decision.
I loved the walkout comment from one of the commentators regarding Henning and his 4yr suspension for PED's, "Some idiot threw the book at this young man" – we all know who that idiot was!!!
With both fighters earning a hard-fought performance bonus, the comment of the night goes to Cyrus Fees at the end of the fight when he said, "we now let our very capable judges……." Eish!
Middleweight bout between JT Botha and Pietie Coxen was an opportunity for both to prove the naysayers wrong. For Coxen, it was the opportunity to begin his first professional win-streak. For Botha, it was the opportunity to get his first professional win after that debut loss.
Botha looked like he was ready to scrap – the JT Botha of old! The flying knee was interesting to see from Coxen but it seemed to spark the shot that ended the fight – that right body-kick to the liver. Botha defeated Coxen via knockout in Round 1.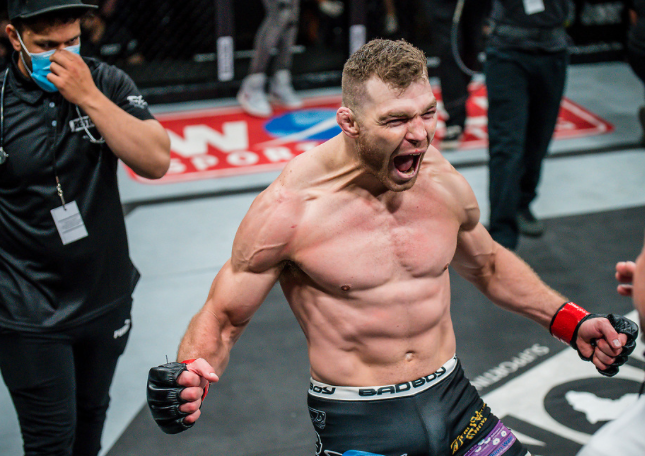 Bantamweight bout between Taka Mhandu and Asiashu Tshitamba was one of those intriguing bouts. An amateur making his professional debut (Mhandu) up against a seasoned professional (Tshitamba) who had recently come of two decision losses against top opponents in Sylvester Chipfumbu and Sindile Manengela. At the end of the night, it was Mhandu that prevailed, defeating Tshitamba via split decision to start his professional career with a win, while handing Tshitamba his third straight loss.
Bantamweight bout between Eduardo Barros and Orlando Machava saw another debutant accept the challenge of fighting a young professional with 6 fights under his belt. After 3 tough rounds, it was a bloodied Machava who had to accept defeat via unanimous decision. A professional debut win for Barros out of Angola, who subsequently needed surgery for a broken foot.
Looking back at the Prelims, the second Featherweight bout of the night saw Vince Bembe defeat Warren Richards via TKO in Round 2. Another win and another finish for Bembe, while Richards continues his skid, making it 6-in-a-row!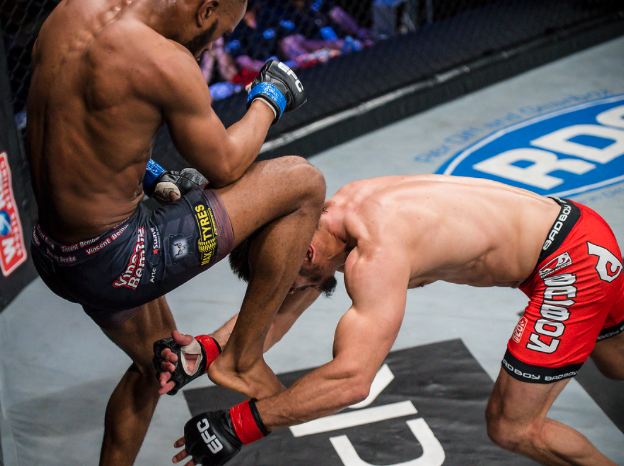 The first Lightweight bout of EFC89 saw Ashley Calvert grab an early shower with an early 1st Round submission win over Guelor Sondi. After more than 6 years away from the cage, Calvert snapped his 6-fight skid with an impressive early stoppage.
The first Bantamweight bout of the night was meant to see Gift Walker take on Zwelibanzi Ngema, who has NEVER won an MMA fight as either and amateur or a professional. The fight never materialised as Ngema was forced to pull out due to COVID. Amazingly, Martin Qcinukmondo stepped up at the weigh-ins as a replacement. Hats off to Qcinukmondo who has fought Walker twice as an amateur – losing twice. Unfortunately for Qcinukmondo it was not going to be 3rd-time lucky as Walker defeated Qcinukmondo via submission early in Round 3.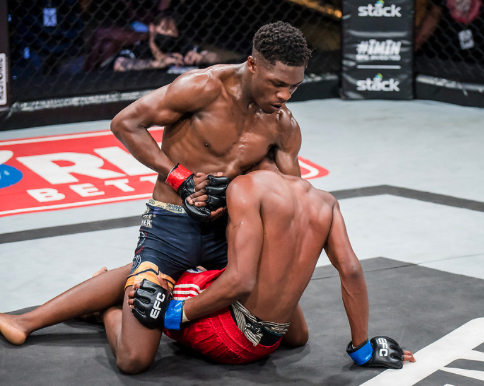 The opening fight of the night was a Featherweight bout between two debutants with Prince Lolia defeating Musa Sethwape via unanimous decision
A reminder of the performance bonuses:
Taka Mhandu & Asiashu Tshitamba
August Kayambala & Cole Henning
Zulu Boy
Orlando Machava 🆚 Eduardo Barros – FOTN
---
Reader's opinions
---