In these times we generally accept that all our carefully crafted plans can suddenly amount to nothing in the blink of an eye. This was certainly the case for the EFC 91 fight card, when at weigh-ins on Friday morning, 4 fights were pulled from the card due to various medical issues and the co-main Featherweight Title fight was downgraded to a 3-round affair due to the challenger, August Kayambala, missing weight by more than three pounds!
Luckily, due to quick match-making and two willing athletes, EFC debutant Lukhmaan Jhazbhay – whose fight was cancelled due to his opponent failing at the medical check, agreed to step up and face Gift Walker who was also left without an opponent following COVID-19 complications. 
The event could have been much worse had it not been for the assistance and "support" to Nkazimulo Zulu, who despite seemingly collapsing "on multiple occasions", eventually made it to the scale just in time and just on weight to ensure that the EFC 91 Flyweight Title fight would indeed take place.
Here is our summary of the 3 early prelim bouts;
The Featherweight opener between Danie Swart (0-3) and Corne Blom (0-3) would guarantee that one of them would get their first professional victory. With both athletes having never seen a 2nd professional round – the script writers deemed it necessary for that statistic to continue as Swart claimed his first win in the first round, ensuring Blom's skid continues. It is interesting to note that the misogynists at MMASA finally deemed if acceptable for Chyrene Strauss to return to Refereeing duties, logging another 3:33 into her Ref's log book!
The Lightweight bout between professional debutant Stevo Law and Tapiwa Katikati (1-0) got off to the worst possible start for Law as he seemed to look down at his leg after his kick was checked, only to get dropped by an overhand right. This allowed Katokati to open a nasty cut on Law's forehead and ultimately finish the fight midway through the first round.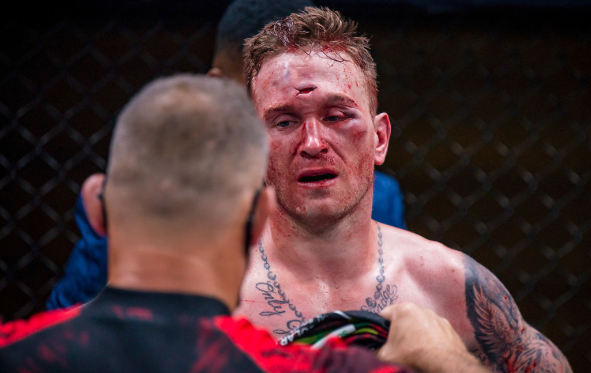 The catchweight bout between Pietie Coxen (6-12) v Peace Nguphane (0-1) was a bizarre matchup.
For the second fight in a row, Coxen has been matched against a "newbie" looking for his first win – remember JT Botha at EFC 89 – this time, instead of being on the main card, he was "headlining" the early prelims. For Nguphane, this was an opportunity to show that his debut DQ was an error in judgement and boy did he put an exclamation mark on that fact! Barely past the midway point in the first round and Coxen was asleep, courtesy of a Von Flue Choke. The win must have been a major relief for Nguphane, while for Coxen, he must now be considering his role in the EFC – that of a journeyman or stepping stone!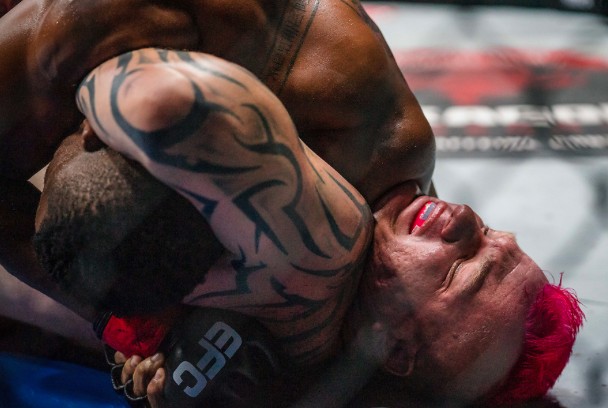 The 5 bouts in the Prelims ensured that the judges would earn their wage – which is not always the best outcome for the athletes.
The "saved" Bantamweight bout between debutant Lukhmaan Jhazbhay v Gift Walker (1-0) was nothing more than a warm-up for the pedigree of Walker, who ended Jhazbhay's night early in round one. Not surprising, given the amateur pedigree of Jhazbhay!
Adrian Sanchez (2-2) v Chris Dove (2-1-0-1) in a Lightweight contest was expected to be more of a showpiece than it actually turned out to be. With the first 4 bouts not making it past the first round, this was expected to at least keep fans glued to their chairs, but alas, it was the steely determination of Dove that put him to sleep due to a Guillotine choke early in round 1. The loss snapped Dove's 3-fight undefeated streak while Sanchez improved to 3-2.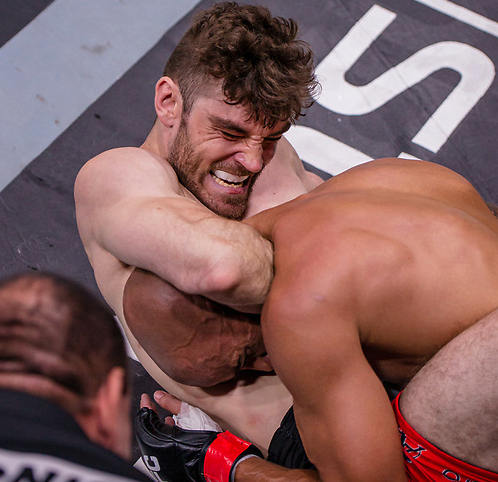 5 fights down and we had not seen 15 minutes of action!!!!
The Featherweight bout between Ashley Calvert (1-6) and Sizwe Mnikathi (11-11-2) saw Calvert build on his win at EFC 89 when the judges gave him a unanimous decision victory over a game Mnikathi. The win not only avenged the loss suffered at the hands of Mnikathi back in 2015 but has confirmed a "remade" Calvert following his more than 6yr lay-off prior to EFC 89.
The Featherweight bout between Bradley Swanepoel (2-0) and Vince Bembe (2-0) meant that someone's great start as a professional was about to end – remember when the EFC did this to Bokang Masunyane and Luthando Biko early in their careers. Both athletes came into this one with 2 finishes in their first 2 professional starts and unfortunately someone's "0" had got to go! A late second round submission of Bembe meant that Swanepoel remained undefeated – I just love the way this young guy fights!!!!
The prelim headliner was the women's Flyweight bout between Ceiliegh Niedermayr (1-0) and professional debutant Dayne Van Wyk. I expected a very different fight from Niedermayr following her dominant debut performance but all credit must go to the former SA Amateur Champion, who kept it at range to earn a debut UD victory.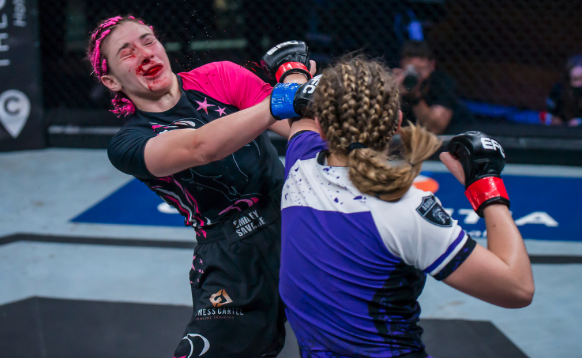 Onto the main card, with not a newbie/debutant in sight – which has been the script for the EFC for most events "post-lockdown"!
With Thabani Mndebela having severed ties with the EFC, the Heavyweight bout between Nico Yamdjie (3-6) and HHH Djikasa (4-3) should have been for the heavyweight strap, but alas, Djikasa needed to face Yamdjie in order to get back to winning ways, after Yamdjie utterly destroyed the much vaunted abilities of the Senegalese wrestler – Papa Ndour – at EFC 90.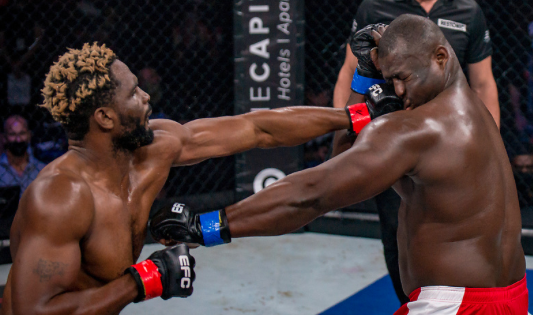 The catchweight bout between Jose Da Rocha and Kaleka Kabanda was an opportunity for Kabanda to halt his 4-fight skid, while for Da Rocha, he was returning to the EFC for the first time since his title eliminator loss to Themba Gorimbo at EFC 79. Kabanda put on a fantastic show but was unfortunately not good enough to snap that skid as Da Rocha won by split decision.
The Lightweight bout between Cole Henning and Tumisang Madiba was an exciting prospect with both fighters coming off frustrating defeats. For Madiba it was also a chance to snap his 4-fight skid. With the fight barely underway, it was a record breaking KO from Henning that ended the fight with just 5 seconds on the clock – the result adding to Madiba's woes as he extends his skid to 5-fights.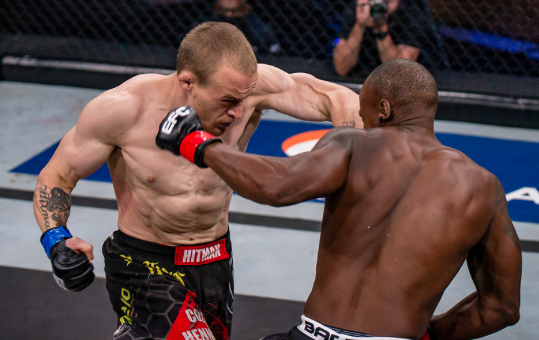 The "Featherweight" Title bout between Reinaldo Ekson (16-5) and August Kayambala (5-2) would see Ekson – on a 2-fight win-streak (5-1 in his last 6) – defend his title for the first time since winning it back at EFC 86. Kayambala, with a similar record of 5-1 in his last 6 fights, was on a 3-fight win-streak coming into this title opportunity. Unfortunately for all concerned, Kayambala missed weight, forcing the EFC to ratchet this bout down from a Championship bout to a 3-round fight. Despite all the drama of the weigh-ins, Ekson remained the more focused professional and submitted Kayambala early in the second round via D'Arce choke.
The rematch for the EFC Flyweight Title between Nkazimulo Zulu (13-4) v Luthando Biko (8-3) would be an opportunity for Zulu to show that his win over Biko, at that contentious event at EFC 89 where multiple accusations were made about the weigh-ins and the fact that Zulu was given special privileges after missing weight, was not a fluke. For Biko, it was the opportunity to prove exactly the opposite! The headliner was almost called off due to medical concerns regarding Zulu not making weight at the time of the official weigh-in – yet again! As if to show his absolute disdain for the ongoing weight issues surrounding Zulu, the EFC and the lack of leadership from MMASA, Biko ended the fight almost as soon as it had begun to be crowned king of the Flyweights and also secure a second title for PESFA.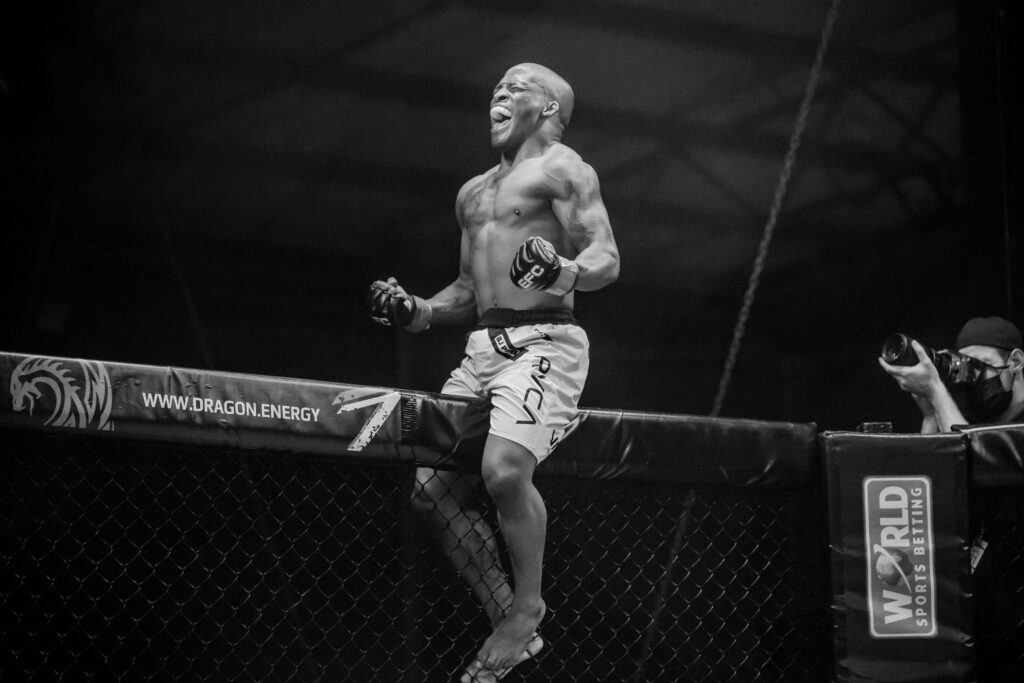 Performance bonuses were awarded to Adrian Sanchez & Bradley Swanepoel while Fight of the Night went to Dayne Van Wyk vs Ceileigh Niedermayr.
---
Reader's opinions
---