The EFC celebrates their 90th event with their first Fight Night (a la the UFC) taking place this coming Saturday at the EFC Performance Institute in Johannesburg, South Africa. A glimpse at the card highlights that the EFC are following in the footsteps of the UFC where Fight Night events feature lower-profile athletes – marketed as future contenders – unlike EFC "numbered" events which will presumably feature championship fights and other high-profile bouts.
The headline event is the women's Bantamweight bout where the returning Shana Power (2-1) faces Christine Wolmarans (1-1). Having not fought since Dec 2016 (EFC 56) where she was walked down by Jacqualine Trosee in that UD loss, we have no idea what to expect when Power steps back inside the hexagon on Saturday night. Training out of Apex with Boyd Allen at the helm and following on some time spent training out of the country, one can expect to see crisp stand-up along with that obligatory spinning back-fist that Power was so happy to let fly. Medical issues forced the 2018 bout with Paulwetu Namba to be cancelled. That bout was scheduled to take place at Flyweight while Saturday night sees Power step into the hexagon at Bantamweight.
Her opponent steps into the hexagon looking to get back to winning ways following the submission loss to Ceileigh Niedermayr at EFC 85. Wolmarans looked the part until she was rocked early in that fight, so how she handles the standup from Power will determine how this ends.
PREDICTION: Power by TKO.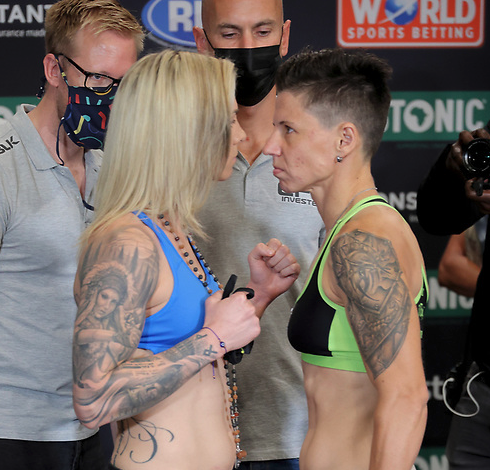 The co-main event sees another two athletes return to action in a rematch of their EFC 53 encounter which Tresor won by UD. Pupanga Tresor's (3-4) last outing at EFC 66 (Dec 2017) ended with a first round loss to Jose Da Rocha, while Kaleka Kabanda's (4-4) last outing at EFC 59 (May 2017) extended his skid to 3-fights. Kabanda has not won many by KO, relying on the judges more often than not while Tresor has 4 KO's to his name. One thing is for sure, one of these guys will be getting back to winning ways!
PREDICTION: With both guys having been out for so long, it's difficult to make a prediction but I will go with history and pick Tresor by KO/TKO.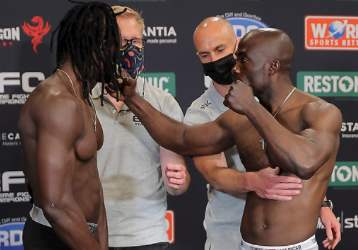 Looking at the rest of the main card;
Ziko Magengele (2-0) should have too much for Jailson de Sousa Rodrigues (0-0) in their Welterweight bout. His Judo pedigree, his unrelenting pressure and the momentum of two 1st round finishes speak volumes against Rodrigues, who comes into this bout with a 1-0 amateur boxing record and apparently, good jiu jitsu. With not much known about Rodrigues, we will have to wait and see how this one plays out.
The Flyweight bout between Wade Kerspuy (2-2) and Julio Plaatjies (1-0) is possibly the most exciting fight on the card! These two guys like to scrap and love being on the ground. Both athletes come into this bout off of submission wins at EFC 78 and EFC 88 respectively.
PREDICTION: Something about the demeanour and conditioning of Kerspuy at the weigh-ins makes me feel that he will be just too strong for Plaatjies. A possible FOTN with Kerspuy taking the decision win.
The opening bout of the main card sees Rocky Ilunga (3-1) clash with Adrian Sanchez (3-1) in a lightweight bout. Both athletes enter the cage on a win and looked in great shape at the weigh-ins mindful of the fact that only one of these athletes extends their winning streak.
PREDICTION: Sanchez by submission
Looking at he Prelim bouts;
The prelim headliner has BANGER written all over it especially if the face-off at weigh-ins is anything to go by! Juan Bezuidenhout (2-2) comes up against the returning Vandam Mbuyi (3-5). Mbuyi is making his return after a lengthy lay-off while Bezuidenhout is looking to build on that farce of fight where he KOed Simon Harle at EFC 82.
PREDICTION: The height difference may play a role but I feel the athleticism and movement from Bezuidenhout should be too much for Mbuyi – Bezuidenhout to win by TKO.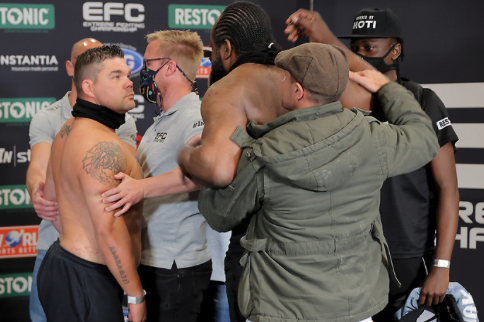 The featherweight showdown between Shannon van Tonder (2-0) and Emmanuel Sita is an unknown entity especially when it comes to Sita, who is making his professional debut. For Van Tonder he boasts a successful start to his pro career and will look to make it 3-in-a-row.
PREDICTION: Not a cooking clue, should be fun to watch.
The Lightweight clash between Chris Dove (2-1) and Rod Kena (4-6) is a crucial encounter for both athletes with some serious consequences. A win for Dove extends his win-streak to 3 and strengthens his claim as an up-&-coming contender, a loss, means he starts all over again. A win for Kena, who missed weight, snaps his 2-fight skid and puts his name back in the conversation, however a loss pushes him further down the pecking order in the division.
PREDICTION: Dove by submission
The opening bout between HP van Staden (2-1) and Robert Swanepoel (0-4-1) should be a quick affair. Both athletes enter the hexagon needing a win – Van Staden needs to show that his last loss to Mutuale Basambombo was a fluke while Swanepoel is yet to register a professional win.
PREDICTION: Van Staden by TKO.
In closing, if the advent of EFC Fight Night is all about developing future contenders then surely it should also be about developing future top officials! The past few events, following her history making debut at EFC 87, have seen no further refereeing duties by Chyrene Strauss, and by all accounts, this seems to be as a result of the diabolical performance of Natasha Brits at EFC 88. Let's hope that the misogyny at MMASA will take a back seat and we will see the likes of Strauss back inside the hexagon on Saturday night.
---
Reader's opinions
---