The EFC's Fight Night 1 took place at the EFC Performance Institute in Johannesburg, South Africa on Saturday 9 October and the card delivered some great action from the athletes and some dubious performances from a referee. 
The Bantamweight main event saw Shana Power defeat Christine Wolmarans by contentious submission early in round 2. The choke was clearly in and Wolmarans did not look like she was angling to defend it intelligently at all. What made the ref – Bobby Karagiannidis – call off the fight without a tap or without the fighter visibly going to sleep, only he knows!
The reality is, Shana Power is back! She looked composed and relaxed for most of the 7-odd minutes inside the hexagon. The real test is now for the EFC to deliver on their claims that they are building the women's divisions and allow athletes like Power, Wolmarans, Niedermayr etc… to show and improve their skills more often.
Pupanga Tresor defeated Kaleka Kabanda via unanimous decision in the event's co-main event. An impressive performance by Kabanda considering that he took the fight on 1-week's notice.
Ziko Magengele delivered on expectations by defeating Jailson Da Sousa Rodrigues via TKO in the first round, earning him a performance bonus.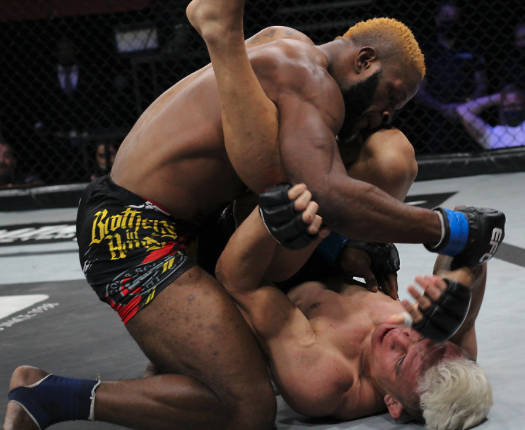 Julio Plaatjies blew people's minds with his first round knockout of Wade Kerspuy early in round 1 which also earned him a performance bonus. 
Rocky Ilunga weathered an early knee to beat Adrian Sanchez via unanimous decision.
Vandam Mbuyi showed that age is just a number when the 48yr old finished off Juan Bezuidenhout with a MASSIVE slam followed by 10 unanswered GnP punches, early in round 1.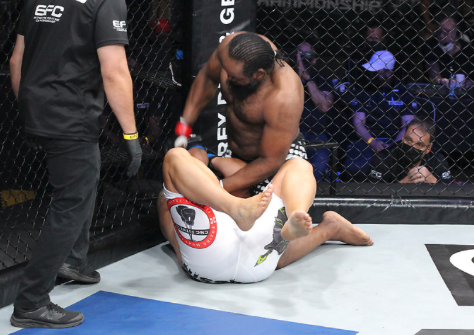 Shannon van Tonder showed some real grit as he saw of the very crisp striking from Emmanuel Sita to sink the standing rear naked choke, early in round 2. Sita impressed early on but seemed to gas late in the first round allowing Van Tonder the easy submission. 
Chris Dove versus Rodrique Kena was a real disappointment with the bout being ruled a "no contest" early in round 1 following an illegal strike to the head of the grounded Kena. Watching the knee from Dove gives one the impression that the knee was intentional, that said, an intentional illegal strike should result in a disqualification. Dove should consider himself lucky to get away with a NC. Interesting that the referee for this bout also happened to be Bobby Karagiannidis!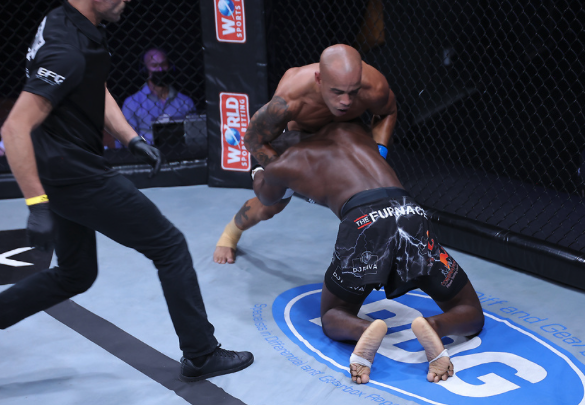 HP van Staden made light work of Robert Swanepoel with a brutal TKO midway through round 1.
FIGHT OF THE NIGHT – Shannon van Tonder vs Emmanuel Sita 
Finally, the issues of misogyny in the sport of MMA were spotlighted by one of the media questions to Shana Power. I partly agree with what she is saying; from the perspective that as a professional athlete you agree to a bout at a certain weigh – not just a few days before the fight but quite often months ahead of the fight! That means, that as an athlete, you need to start from that moment to prepare yourself to appear at the obligatory weigh-ins – on weight. The example of Miesha Tate and her comments regarding Aspen Ladd missing weight has unfortunately nothing to do with the issue of misogyny – because just in case you don't know – Miesha Tate happens to be a woman!
Just a pity that other aspects of misogyny in MMA were not discussed, like, it is OK for a male ref to make an error that impacts a fighter's career but clearly it is not OK when it come to women – a slightly unfair comparison, but I think you get the point that unlike male referees getting the benefit of the doubt, it appears that all female referees are painted with the same incompetent brush as the one offending party!
The next event is the landmark EFC 90 – Manengela vs Jacobs for the vacant EFC Bantamweight Title – this writer is a bit surprised at this news as, to my knowledge, the current EFC Bantamweight Champion is Sylvester Chipfumbu. We will find out more!
---
Reader's opinions
---