This past weekend (April 28 to 30) saw Mixed Martial Arts South Africa (MMASA) host the International Mixed Martial Arts Federation (IMMAF) Africa Championships at the Extreme Fighting Championship (EFC) Performance Institute in Johannesburg, South Africa.
The event featured athletes from 7 African nations, namely Angola, Democratic Republic of Congo, Mauritius, Namibia, Zambia, Zimbabwe and hosts, South Africa – with the largest participating national team of 20 athletes.
Going into this year's event, after two very difficult years of restrictions for the sport of MMA across the region, the host nation held position 19 on the Senior National Team Rankings list, 33rd on the Junior National Rankings list and no ranking on the Youth National Rankings list.
The 2022 edition of the  IMMAF Africa Championships ultimately saw the host nation collect their biggest haul of medals – 17 medals (5 x Gold / 7 x Silver / 5 x Bronze) – since the inception of the competition, eclipsing their previous best medals haul at the inaugural event in 2016 by one medal, this year's achievement included the most ever gold medals by South Africa in any single international MMA event. The results should see South Africa should move back into the top 10 of the Senior National Team Rankings.
The regional growth of the sport of MMA is set to make major strides with newly accredited IMMAF organisations, such as Angola (2021), Zambia (2020) and Zimbabwe (2021) performing exceptionally well at their inaugural appearance at the event.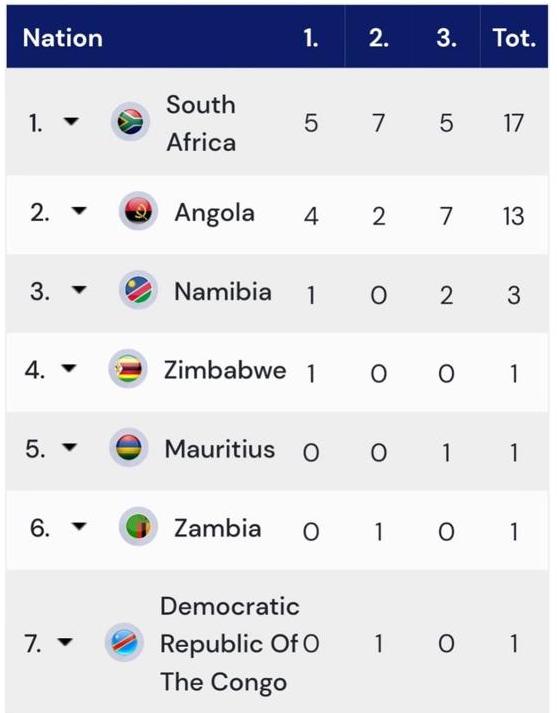 The event was the first in Africa since "IMMAF has become the only MMA governing body to be awarded signatory status by the World Anti-Doping Agency (WADA), recognising our legitimacy and authority based on our standards of good governance. And so it is with pride that we return to the continent to hold our first tournament there under the auspices of WADA" stated IMMAF President Kerrith Brown, this despite the fact that The African Mixed Martial Arts Confederation (AMMAC), a Member of the Global Association of Mixed Martial Arts (GAMMA), had recently joined the Association of African Sports Confederation (AASC-UCSA) as an affiliate member.
The next few months should showcase some interesting developments for the sport of MMA on the African continent.
---
Reader's opinions
---